NAME:
Judge Harry T. Stone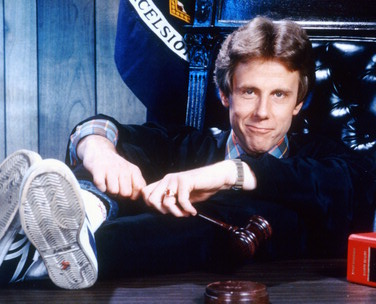 BIRTHDAY: ?? / ?? / 1950
LIKES:
Mel Torme's music
Performing magic tricks
Movies (especially Film Noirs) and Fashion from the 1940s
wearing fedoras and zany ties
Absolutely LOVES Halloween

HATES:
Barry Manilow's music
Modern music

BIO:
Judge Harold "Harry" T. Stone (played by Harry Anderson) was born in 1950. His mother abandoned him when she was 16 to live with her brother's family. At the start of Night Court's first season (1984), Harry was 34 and the youngest judge appointed in the City of Manhattan's history. Harry presided over an unknown (the name wasn't acknowleded in the show) Manhattan courthouse on the swing shift (4pm-12am) in New York.
During the first season's run, Harry was beginning to find an attaraction for Court Clerk Lana Wagner (played by Karen Austin), but after 10 episodes, Creator and Producer Reinhold Weege didn't like Austin's portrayal of Lana, who wasn't meshing well with the other characters besides Harry Stone. So for the 3 remaining episodes, only Austin's title card appears.
In the second season, Judge Harry had a new love interest: new arrival Defense Attorney Billie Young (Ellen Foley), but that relationship didn't last. Creator and Producer Reinhold Weege actually wanted actress Markie Post's character Christine Sullivan (who only appeared in one episode in season 2) in the main cast. However, Post was busy filming the TV series "The Fall Guy" and was under contract. Once this contract ended, Weege hired her to replace Ellen Foley's character Billie Young in Night Court's third season.
WEBSITE STILL UNDER MAINTINANCE: MORE TO COME
Community content is available under
CC-BY-SA
unless otherwise noted.